Price

RM216.00

Product SKU
102667
Brand
ASH II
Size (L x W x H)
15 cm x 6 cm x 4 cm
Availability
19
Quantity
Description
PRODUCT DESCRIPTION:
Probiotics are live microorganisms that confer health benefits to the host. An imbalance of human gut microbiota may lead to digestive problems such as constipation, diarrhea, upset stomach, and bloating. Therefore, supplementing probiotics would be beneficial in maintaining a healthy composition of the gut microbiome.
PRODUCT BENEFITS:
PROGUD contains 8 strain-specific probiotics & 1 prebiotic (BENEO Orafti®) that provide several health benefits to the human when consumed:
Maintain the balance of gut microbiota

Enhance digestion and nutrient absorption

Maintain gastrointestinal health & improve gastrointestinal discomfort

Improve bowel function

Relieve lactose intolerance

Improve symptoms of eczema / atopic dermatitis

Enhance immunity

Promote oral health
PRODUCT HIGHLIGHTS:
8 specific live-cultured clinically tested probiotics to confer health benefits to human

1 prebiotic (BENEO Orafti®)

Vitamin C

18 billion CFU per sachet

Vegan-friendly

GMP-certified
RECOMMENDED DOSAGE:
Children (1 year and above) & Adult: Take 1 sachet (3.9 g powder) once daily after meal. The content can be directly consumed or mixed with water upon consumption.
HIGHLY RECOMMENDED FOR:
Individuals with the following symptoms:
Poor digestion / Indigestion

Irritable bowel syndrome (IBS) / Inflammatory bowel disease (IBD)

Diarrhoea / Constipation

Bloating / Flatulence

Easily fall sick (poor immunity)

Maintenance of good gut health

Antibiotic-associated gut problems

Other gastrointestinal disturbances
ACTIVE INGREDIENTS:
Each sachet (3.9g powder) contains the following:
| | |
| --- | --- |
| Bifidobacterium animalis subsp. lactis LAFTI® B94 | 30 mg |
| Bifidobacterium animalis subsp. lactis HN019 | 5 mg |
| Bifidobacterium animalis subsp. lactis Bi-07 | 10 mg |
| Lactobacillus acidophilus NCFM | 15 mg |
| Lactobacillus helveticus R0052 | 10 mg |
| Lactobacillus rhamnosus R0011 | 33.33 mg |
| Lactobacillus rhamnosus IMC501 | 5 mg |
| Lactobacillus paracasei IMC502 | 5 mg |
| Inulin | 1350 mg |
| Vitamin C | 160 mg |
*Natural Orange Taste
PRODUCT PACKAGING:
20 sachets per box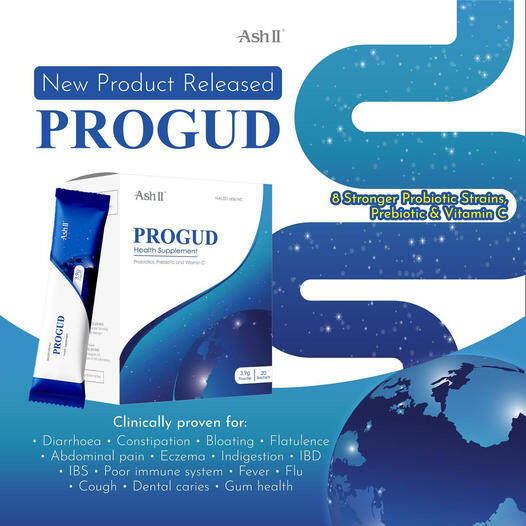 Reviews (0)
view all
back